UTAH
In Utah, state officials have asserted more than 10,000 right-of-way claims under RS 2477, many of which are nothing but cow trails, footpaths, and vanishing scars from mining and prospecting decades ago, and from off-road vehicles. These "phantom highways" would slice and dice the spectacular landscapes and canyons found in America's Redrock Wilderness Act and off-road-vehicle groups have mapped what seems like every jeep trail and desert stream bed and successfully urged counties to adopt their findings as "roads" on county maps. Southern Utah counties now claim they have valid existing rights-of-way under the repealed law that entitle them to lay claim to phantom trails, and they are targeting national parks (including Canyonlands and Zion) and lands proposed by Congress for wilderness protection. These wilderness foes will argue that these rough, unmaintained "roads" disqualify surrounding public lands for wilderness protection.
In pursuit of this attempted takeover of public lands, the state of Utah sent formal notice to then-Interior Secretary of the Interior Bruce Babbitt in June 2000 that the state, on behalf of itself and all its counties, would file suit to gain rights-of-way to all these alleged roads. The federal government, thundered the state's assistant attorney general Stephen Boyden, has set up a situation "that is intolerable and amounts to a federal claim of interest adverse to that of the State and a usurpation of property rights vested in the State." We have just posted (as of November 2004) maps that show the state's claims. Note that every red line on these maps is an RS 2477 claim and that the claims cross every national park, every wilderness area, and every military reservation in Utah. See the maps:
Beaver Box Elder Cache Carbon Daggett Davis Duchesne Emery Garfield Grand Iron Juab Kane Millard Morgan Piute Rich Salt Lake San Juan Sanpete Sevier Summit Tooele Uintah Utah Wasatch Washington Wayne Weber
PHOTOS AND MAPS OF PROPOSED "HIGHWAYS"
NEWS: Click here for news stories, letters, memoranda, and other material on various aspects of the RS 2477 controversy.
UTAH-INTERIOR DEAL THREATENS PUBLIC LANDS GIVEAWAY In April 2003, the Department of Interior entered an agreement with Utah to grease the skids for giving up trails as "constructed highways" in potential wilderness lands across Utah. Read about the political firestorm that erupted in response, and find out how and where Utah is planning to turn public lands into highways.
RS 2477 THREATENS DRINKING WATER SUPPLIES Several jurisdictions in Utah, including Salt Lake City, worry that RS 2477 claims could lead to damage to watersheds from which the cities draw their drinking water. Click above to read all about this somewhat unexpected problem.
NATIONAL PARK STREAM CLAIMED AS 'CONSTRUCTED HIGHWAY.' Salt Creek is one of the most important streams in Canyonlands National Park - in fact it's the only perennial water in the Park besides the Colorado and Green Rivers. But that hasn't stopped San Juan County and the State of Utah from claiming a ten-mile stretch of the stream as a constructed highway under R.S. 2477.
UTAH, OFF-ROADERS ATTACK MEASURE TO PROTECT THE SAN RAFAEL SWELL. The San Rafael Swell includes some of the most awe-inspiring scenery in the Southwest, but off-road vehicles groups - and now the State of Utah - are working to undo modest measures to keep some of the Swell free from the damaging impacts of ORVs.
UTAH COUNTIES & OFF ROAD GROUPS ARE PUSHING DIRT TRACKS AS HIGHWAYS A backlash seems to be growing against Utah counties that are making outrageous claims to rights-of-way and going to extremes to get their way. Click above for numerous articles and other material.
UTAH'S RS 2477 CLAIMS UNDER INTERIOR DEPARTMENT AGREEMENT HIT SPEED BUMPS. In 2004, Utah laid claim to the Weiss Highway, a road built by, and named for, a federal engineer, and thus a route that could not be an RS 2477 right-of-way. In 2005, Utah is pushing for four more routes, with little evidence to support its claims.
STATE BRINGS SUIT CLAIMING ROUTES IN, NEAR WILDLANDS In February 2005, the state of Utah sued the federal government to claim jurisdiction over a half-dozen more roads in and near wildland areas. Click the headline above for maps and more information.
Utah County Accused of Falsifying Road Data For Money A federal court complaint unsealed in February 2005 alleges that Uintah County defrauded the United States by claiming the County maintained miles of roads that are mere dirt tracks.
Utah Attacks Alpine Wilderness in Western Utah The Deep Creek Mountains -- a range that tops out at 12,000 feet and is home to the imperiled Bonneville cutthroat -- was found to be a roadless, wild area 15 years ago. Now, Utah seeks to use RS 2477 as a sword to slash highways into and through legally protected Wilderness Study Areas.
KANE AND GARFIELD COUNTIES TRY TO TAKE OVER MANAGEMENT OF FEDERAL LANDS Two large counties in southern Utah are engaged in an epic struggle to claim rights-of-way over cow paths and faint trails in national parks, monuments, recreation areas, and wildernesses.
JULY/AUGUST 2007: Mother Jones Magazine features R.S. 2477 and ORVs in its summer edition. Read a related article in The Daily Evergreen.
JUNE 2007: Conservation groups are allowed to intervene in an important case that threatens Death Valley, the largest National Park in the lower 48. Read a press release.
MORE JUNE 2007 NEWS! Cache County Attempts Public Lands Take-Over: The county goes up against the feds and claims it has a right to Forest Service roads, costing taxpayer dollars. Read how the county subverts the law as a conservation group works to protect Utah from this attempted land grab.
View a slideshow of Salt Creek and see how RS 2477 claims threaten a rare oasis in Canyonlands National Park.
In The Press: Utah is accused of favoritism in the awarding of a no-bid contract to help prepare for upcoming RS2477 battles. Read the Salt Lake Tribune's account of November 26, 2005.
April 15, 2005: Utah agency refuses request to turn over documents. Read the story.
In early May 2004 a band of 30 Jeep jockeys entered Arch Canyon, near Blanding, Utah, having been denied a permit by the Bureau of Land Management for their caper. They cited RS 2477. An account of the story was reported in the Salt Lake Tribune.
Environmental groups filed suit on April 22 in an attempt to gain access to documents the federal government has refused to disclose concerning how it intends to resolve RS 2477 claims. Read a news story.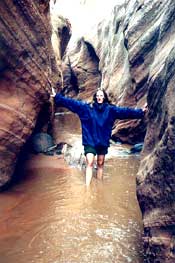 WHERE'S THE HIGHWAY?
The slot in the photo above is narrower than the width of a normal vehicle. To get into the slot, a motorist on this Garfield County "highway" would have to drive down a waterfall. Location: The Gulch, North Escalante Canyons, Grand Staircase-Escalante National Monument, photo by Gordon Swenson.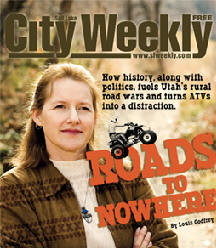 In the press: The Salt Lake Tribune followed up on the favoritism story on January 6, 2006, giving credit to Heidi McIntosh (above), of the Southern Utah Wilderness Alliance, for blowing the whistle. She is also featured in a November 2005 story on Kane County and RS 2477.