Colorado
Some of this country's most treasured national lands in Colorado could be devastated under RS 2477. In Moffat County, county commissioners have claimed broad rights-of-way across more than 300,000 acres of wilderness area including Dinosaur National Monument. The monument is an extraordinary area that protects awe-inspiring canyons of the Green and Yampa Rivers, deposits of fossilized dinosaur bones, pre-historic rock art, and serves as critical habitat for species such as the imperiled peregrine falcon and bald eagle.
---
Learn more:
Moffatt County's Extreme Proposal
Governor Owens Endorses Extreme Approach
COLORADO COUNTIES EMBRACE A MORE MODERATE APPROACH
See Colorado's
BOGUS HIGHWAY CLAIMS!
including those in
Dinosaur National Monument,
Browns Park National Wildlife Refuge and Vermillion Basin.
WHERE'S THE HIGHWAY?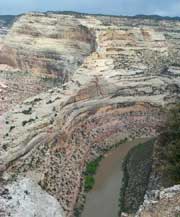 Yampa River Canyon: Moffat County claims the Yampa River canyon (above) for more than 20 miles as a 'constructed highway.' County data gathered to support the assertion claims that the right-of-way was "built by Indians" in the 1800s and that it was used in winter to feed cattle when users of this alleged route "drove on ice." Images (c) 2003, Colorado Environmental Coalition.
TAKE ACTION!
Respond to Gov. Owens proposal that could put bulldozers in National Parks in Colorado. Visit the action alert from: