On June 6, 2003, Colorado's Governor secretly moved to obtain an agreement with the Department of the Interior that could ease the granting of right-of-ways to hiking trails and cow-paths through National Parks, National Wildlife Refuges, and wilderness lands.
---
GOVERNOR OWENS'S 'PAVE-THE-PARKS' PLAN
---
---
COLORADO'S REPRESENTATIVES RESPOND
---
CITIZENS FIGHT TO PROTECT COLORADO'S OPEN SPACE

WHERE'S THE HIGHWAY?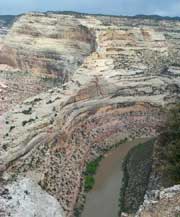 Yampa River Canyon: Moffat County claims the Yampa River canyon (above) for more than 20 miles as a 'constructed highway.' County data gathered to support the assertion claims that the right-of-way was "built by Indians" in the 1800s and that it was used in winter to feed cattle when users of this alleged route "drove on ice." Images (c) 2003, Colorado Environmental Coalition.